Pages
Meta
Featured Articles
Archives
Tags
May 17, 2008 · Patrick Hickey, Jr. · Jump to comments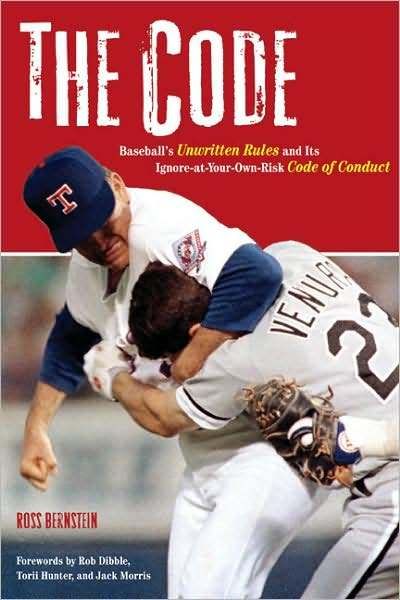 After penning the successful book "The Code: The Unwritten Rules of Fighting and Retaliation in the NHL" in November 2006, author Ross Bernstein took his attention away from the world of professional hockey to focus on a new book. "The Code: Baseball's Unwritten Rules and Its Ignore-at-Your-Own-Risk Code of Conduct," Bernstein's new book, takes readers on a ride through professional baseball, where they learn the etiquette and inside decorum of the game from over 100 former and current MLB stars. Chatting over the phone from his home in Minnesota, Bernstein talks about his inspiration behind the book.
Dem Brooklyn Bums: This is the second book of this nature that you've released in the past two years and while the narrative is strong, the best part of the book are the quotes you get from players. How much work went into that kind of reporting?
Ross Bernstein: I interviewed about a hundred players for this book and I've always maintained that I'm not going to win a Pulitzer Prize for my work. So far, I've written about 40 books and I've had a lot of fun doing it, but I'm a fan first and foremost. I just try and have fun when I do this, I'm not going to try and suggest that I'm some sort of investigative journalist curing cancer. A big part of the book is me talking to players to shed light on other people's thoughts of what goes on during a baseball game. With that being said, I tried to get as many players as I could and the way it worked was one player would usually lead to another. I also have a lot of players from the Minnesota area, where I'm from, which helped because I have a lot of contacts and access there. Nevertheless, it was still hard to get some of the great stories, but it also helps when you can call a guy at his home where he'll really open up to you. Some guys didn't want to talk on the record and some poured their hearts out to me. That's just the way it worked out. I read a lot of books on the subject as well and tried to really do my homework on this one. Plus, I had a lot of insight because I used to play in high school, so I tried to combine what I knew with what these players were telling me.
DBB: After writing the hockey book, what made you want to crossover into the world of baseball?
Bernstein: I think it was always something that fascinated me. With the hockey book, I had really great access. It was during the lockout and I was playing hockey with a lot of them, I was just one of the guys. With baseball, it just made sense because this was one of the only other sports that had a true code. You can't go out on a baseball field and just do whatever you want. You have to be held accountable for your actions, much like hockey. In hockey, if someone challenges you to a fight after you've hit them with a high stick and you don't "show up," your teammates won't want you on the bench. The same kind of thing goes on in baseball. If someone shows you up, you have to respond.
DBB: While the book relies heavily on quotes from players and many of them are the types of things hardcore fans would already know, there are a few quotes that really stand out as special. Was there anyone in particular that really shocked you with what they had to say?
Bernstein: You'd be surprised; there was a lot of that going on. I just never knew what I was going to get. Some guys were really open and went with it while some were guarded and reserved. There is one chapter in book where I discuss sign stealing and the effort that goes into coding signs so they are not stolen. That is where I myself was the most fascinated. In any one game, there can be a thousand signs being passed. Before I talked to a few pitchers and catchers, I had no idea that they always have to change their signs so they aren't stolen. I then talked to [seven-time MLB All-Star] Paul Molitor, who I've known for years, who also wrote a forward for a book I did a few years ago and he is a master decoder of signs. He told me how some pitchers almost had poker tells and that he could tell by the way a pitcher reacted on the mound after the sign was delivered what pitch was going to come. I'm sure it's because of guys like him that pitchers cover their mouths now when the catcher comes up to the mound. For a guy to be able to do something like that just by watching on the bench, he's a huge asset to his team and a great baseball mind, but at other times in the sport's history, there were people with telescopes stealing signs. I was so fascinated by all of this tradition and information.
DBB: You said earlier that you've interviewed over 100 players for this book. Was there anyone that you were really itching to talk to?
Bernstein: I refer to those guys as my "white whales," to make a "Moby-Dick" reference. I really wanted to talk to Nolan Ryan and I tried, tried and tried, but there always seemed to be one degree of separation. I came close though. He's just one of those guys that don't like talking about this stuff. I would also have loved to talk to Bob Gibson and Sandy Koufax and I tried and tried, but again, these guys didn't really want to talk about the things that went into this book, so in the end, I had to take what I could get. I am really happy with what I got, though. I loved talking to Rob Dibble and Mike Marshall gave me some great stuff as well. Bert Blyleven was also a guy that was a lot of fun to talk to as well. With a book like this, every author will have a different bunch of guys they'd want to talk to and when it's all said and done, I'm really proud of the bunch of players I decided to interview.
DBB: You wrote this book during the unveiling of the Mitchell Report and the climax of the whole steroid controversy. Did you find it more difficult to write the book because of this?
Bernstein: Not at all. I think it helped because it was a hot topic and a lot of players wanted to talk about it. For many of them, they feel like it's a big violation of the code. It was really great to hear from a guy like Dave Winfield, who is outraged at all the steroid abuse in the game today because his records are falling as a result of it. To give someone like that an outlet was very rewarding for me as well.