Pages
Meta
Featured Articles
Archives
Tags
July 19, 2008 · Patrick Hickey, Jr. · Jump to comments

When outfielder Angel Pagan was leading the Mets in RBI over the first handful of games this season, most of Mets country let out an explosive… huh?
However, fans in Brooklyn were happy to see the original Cyclone finally getting a real opportunity at the major league level after two so-so seasons with the Chicago Cubs.
Hitting .275 with 13 RBI in only 31 games before going down with a contusion in his left shoulder, after making an amazing catch in the stands at Dodger Stadium on May 7, things haven't quite gone Pagan's way this season either. Nonetheless, after a rehab assignment with his former team this past week, Pagan is that much closer to getting back to the Mets.
"I feel good," Pagan said. "I've been out for two months, so I have to work hard to get back. My timing is a little off, but I'm getting there and pretty soon, I hope I can play with the Mets again. I was supposed to come here as a fan at some point in the season, but then I got hurt and now I'm playing here. It's OK though, I love these fans and I know they love me. I love being here and I hope they keep loving me back."
Hitting .308 in four games with his former team, having the 27-year-old in the lineup not only provided a jolt to the offense, which is hitting only a meager .241 for the season, but also put a smile on the face of one particular person on the Brooklyn coaching staff.
"He's mature now and he takes it very seriously," said Brooklyn manager Edgar Alfonzo, who coached Pagan in Kingsport in 2000 and Brooklyn in 2001. "He's talking to everyone and they all appreciate him. The Angel Pagan you see now is different from the one I had a few years ago. He was a little kid. Now, he knows the game."
Pagan too thought it was pretty cool to come back to the place where people started to believe he could play in the big leagues.
Not known as much of a speedster in the bigs, Pagan was a catcher's worst nightmare during his days in the NYPL and believes that kind of aggressiveness is what helped him get to the big leagues and make a name for himself in Brooklyn.
That kind of aggressiveness is still something he prides himself on every day he's on the field.
"Just because I'm rehabbing, doesn't mean I'm going to take it easy," Pagan said. "I came here to compete and get ready to go back to Shea Stadium."
Stealing three bases in only four games with Brooklyn, which ironically is now tied for the team lead, the Cyclones all-time stolen base leader undoubtedly competed and proved he still has the same magic legs he had in 2001 when he led the NY-Penn League with 30 swipes.
"I remember yelling at him, but we used to joke around a lot too," Alfonzo said on July 14, a day before his last game with Brooklyn. "We used to have this sign when he was on first base when I wanted him to steal. I'd give him the open hands. I gave it to him a few times already and it put a smile on his face. It's been fun having him back."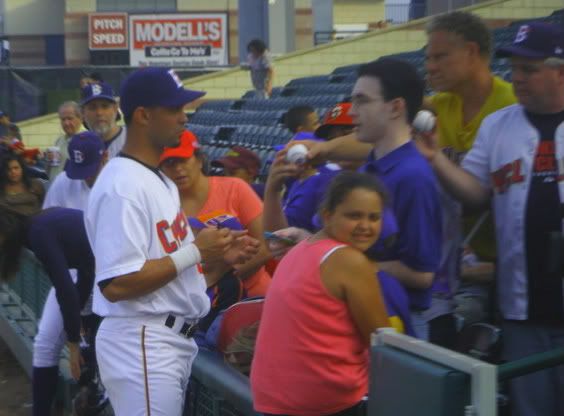 Now in St. Lucie, where he can face left-handed pitching to see how well his shoulder has healed, Pagan is that much closer to returning to the bigs.
That doesn't mean he didn't have a blast returning to the first place he had real success as a professional ball player though.
"The thing I remember the most about here was the fans," Pagan said. "They were always supporting us. We played so well at home when I was here and it just felt like whoever we were playing, they were losing. I'll always remember it as a special year and one that I'll never forget.
"Today, the atmosphere still feels the same."
Link:
Box Score to last night's Cyclones 7-5 loss.

Pictures by Ron Hatcher and Patrick Hickey Jr.