Pages
Meta
Featured Articles
Archives
Tags
August 5, 2008 · Patrick Hickey, Jr. · Jump to comments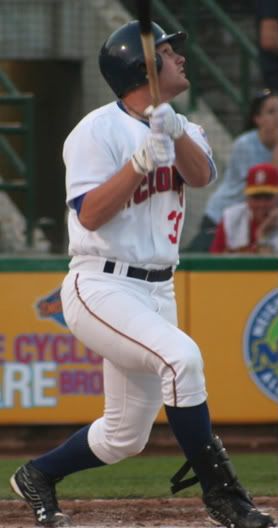 As sort of recognition of Daniel Murphy's call-up to the Mets this past weekend, I'd like to share with you all this Q & A I did with him way back in September of 2006.
Enjoy!
BTW, expect something similar tomorrow on Eddie Kunz!
DemBrooklynBums.com: Heading into the offseason, what do you need to work on the most to be ready for next season and what will you be doing to work on it?
Daniel Murphy: First, I'm heading down to the instructional league to heal up a little bit more and keep on working; heal my knee and arm up and put myself in a situation where I come back bigger, stronger and faster so I can come into spring training and really help the organization.
DBB: What would you say is your biggest strength as a ball player? What do you bring to the field and to your team?
Murphy: Hitting. I think I also help in the clubhouse because I'm a happy go lucky kind of guy and I keep things light. Things can get pretty tense around a baseball team, so I think my attitude helps my teammates. When it's time to play, we play, but when it's time to have fun, we have fun too.
DBB: What did you think of your season this year? How do you think it went for you?
Murphy: I tore my PCL and strained my hamstring three weeks after my college season ended, so there are still things that I can't do that I usually do, like read a ball hit to third or get an extra base on a base hit. If I'm struggling, I like to lay down a bunt from time to time and I can't do that right now either. I played a little in the Gulf Coast League and Kingsport this year, I'm just trying to prepare myself for the future at this point and help my team anyway I can.
DBB: To give our fans a better idea of the type of player you are, who would you compare your game to at the Major League level and why?
Murphy: Growing up, I was a huge Tony Gwynn fan, I loved watching him hit. Some people compare me to Pete Rose because of the way I get down at the plate and because I hustle. He hits the ball a little better than I do though [laughing]. I just try and play the game as hard as I can, but I'm a little hampered right now, so I'm doing the best I can with what I have.

Notes-
New Podcast is up on I-Tunes as well, featuring an interview I did with Murphy on June 29. I didn't think I was going to use the audio originally, but I still wanted to talk to him considering I remembered him from 2006 and how well he's been doing. Happy I did now. Enjoy!
Click here to listen and download the interview on I-Tunes!
or stream it on the web here!
Photo by Ron Hatcher