Pages
Meta
Featured Articles
Archives
Tags
August 6, 2008 · Patrick Hickey, Jr. · Jump to comments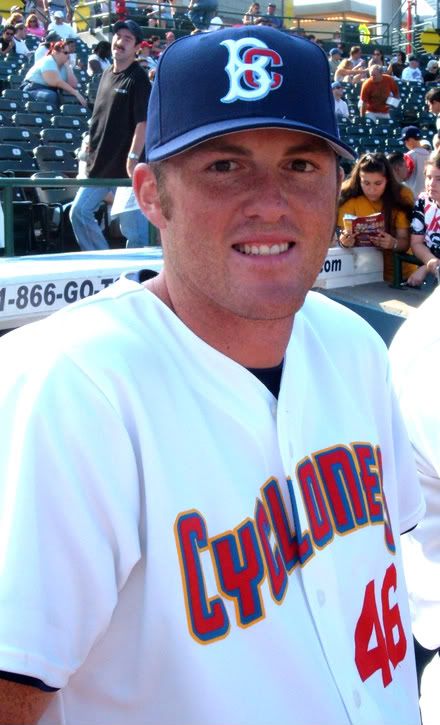 Keeping with yesterday's motif, here's a little diddy I wrote about Eddie Kunz in August of 2007…enjoy!
When reliever Eddie Kunz is on the mound for the Cyclones, it's easy to see the beads of sweat drip down his face while the crowd cheers his name and the hitter wonders what pitch he's going to get.
Hell, even a small part of Kunz probably has trouble deciding.
Will it be the slider that'll dance through the strike zone a split second after it leaves his hand, or will it be the changeup that'll put the poor hitter into the ground like he's attached to a screwdriver? Or worse yet, will it be the fastball that will sting his hands like a bee if he manages to make contact?
While this chess game goes on inside the hitter's mind, Kunz doesn't hear the sound of the crowd. All he sees is his target.
Since making his professional debut with the 'Clones on August 4, Kunz has four saves in eight games. with his opponents hitting .222 against him, proving he hits his target more times than he misses.
"This place [Keyspan Park] is really high energy, but I don't hear anything when I'm out on the mound, I'm just in the zone and focused," said Kunz. "The last time I was out and I got the save, people were cheering my name and I had no idea until my parents called me up and told me they heard it on the radio."
The Mets first pick in this year's draft, Kunz has had some bumps in the road this season, giving up six runs in two outings against Aberdeen and Vermont, the main reason why his ERA is an unusually high 8.59. However, in his six other appearances this season, he hasn't given up a run and has shown the confidence and unbridled determination a good closer needs in order to be successful.
"I knew I had some good stuff, but I didn't know how good I was until I faced a couple of batters," said Kunz, who has six strikeouts in 7.1 innings of work this season. "Now that I've done that and I see how much success I've been having, I've been trying to build on that success every time I go out there. By doing that, I think I've proven to myself and the organization that I do more than hold my own at this level and that I'll be ready for hitters at higher levels when they decide to move me up."
With all of the competition in the 'Clones pen this season, Kunz was originally expected to share closing duties with Brant Rustich, Dan McDonald and Stephen Clyne, but after dominant performances against Mahoning Valley and Auburn, Kunz looks to have taken sole position of Brooklyn closers gig for the time being. Nevertheless, Kunz believes that while he would prefer to stay as the team's main closer, he'll do whatever it takes to help the team win.
"I was a little scared at first," said Kunz. "There are four of us in the pen that can come out and close at any time. I'm just really happy that I've gotten a chance to show my ability and prove that I can hold down the closer role if they need me to. In all honesty, I don't feel that any of us are any better than another, it just depends on what the coaches want to see."
Feeling that the coaching staff in the end will play the biggest part in his success, Kunz, who compares himself to Eric Gagne, is grateful for getting so much playing time after taking six weeks to iron out his contract and get his professional career started.
"I've been pitching really well lately because the coaching staff has been giving me an opportunity to throw and I've been making the most of it," said Kunz. "I've been handling the closing duties really well and all of my pitches are really working. I'm hitting my spots really well with my fastball, changeup and slider right now, but I'm just really happy to be here and making the most out of the opportunity the organization has given me."

Photo by Patrick Hickey Jr.